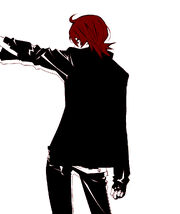 Silver is one of the longest running members of Team Rocket. He has history of being a general asshole to other characters, keeping it canon. He's sent
Bakura
to the infirmary, had relationships with
Blue
,
Giselle
,
Luka
and almost
Rikku
, whom is fully human (and if she's not to you he's never had anything intimate with her so suck on that). He's generally the most emotional in certain circumstances, yet has controlled them because he realized his character pissed people off. He fought
Tobi
at the battle of
The Four Towers
and was the general leader of the
Black Diamond
plot. He's had a lot of character development through general interaction, including a short
father/son connection
at a whim return during a leave. He is also a whiny little fagbitch.
Much love!
No Title

Age

17

Birthday

December 24, 1992 (Capricorn)

Height

6'0"

Weight

170 lbs

Birthplace

Viridian City

Eye Color

Silver

Hair Color

Red

Relatives

Giovanni (father); Arianna (mother, presumably); Mars (sister, presumably)

Pokemon

Sneasel, Crobat, Magneton, Alakazam, Haunter, Feraligatr, Houndoom, Ursaring